About Dr. Parsons
Herbert Lynn Parsons, M.D. was born December 23, 1942 in Memphis, Tennessee. His mother, Oneita Montgomery Parsons (1909-1997), reared her two sons in their West Tennessee home of Somerville. His father, Joel Herbert Parsons (1908-1959), an internationally renowned marksman, was employed by Winchester for over 30 years prior to his death in 1959. Film record of his legendary exhibition shooting is available on the VHS videotape Showman Shooter. Dr. Parsons as a young boy also appears in the Showman Shooter video with his dad. One younger brother, Dr. Jerry Parsons, is a prominent horticulturist who lives in San Antonio, Texas. Jerry is a professor and extension specialist with the Texas A & M University System.
Dr. Lynn Parsons is a 1969 graduate of the Tulane School of Medicine. He completed an internship and a four year general surgery residency at Baptist Memorial Hospital in Memphis, Tennessee. Major Parsons then served in the military as Chief of Surgery and Chief of Hospital Services at the United States Air Force Hospital of the Air Training Command in Columbus, Mississippi. Dr. Parsons is a general surgeon certified by the American Board of Surgery. He is a Fellow of The American College of Surgeons and a member of numerous surgical societies.
Click here to view Dr. Parsons' Curriculum Vitae
Since completion of surgery residency, Dr. Parsons has lived and practiced general surgery in Tennessee, Kentucky and Ohio. He currently is in solo practice in Bellefontaine, Ohio, Logan County, after successfully defending himself against a non-compete (Restrictive Covenant) action by his former employer.
Dr. Parsons is a Life Member of The Amateur Trapshooting Association and enjoys clay target shooting (trap, skeet and sporting clays), hunting and tennis. He has two daughters, Melissa Ann Parsons Healy and Diana Lynn Parsons.
Many of us "knew" Lynn way before we met him. Without realizing who he really was, we had that vision of him being called from the vast audience of persons watching his father's exhibition shooting in Winchester's 1954 "Showman Shooter" film - Lynn with his Buster Brown shoes and rolled up jeans and slicked back hair - only ten at the time - shooting five clay pigeons one right after the other before they hit the ground ("Whose show is this anyway?" his famous father Herb said to the camera in mock exasperation).
That image of excellence became a freeze-frame to every farm kid across the country who viewed the famous film in 4-H, Boy Scouts, Hunter Safety or gun stores that ran it constantly. And of course the famous slogans of Lynn's father "...then you won't have to hunt for him tomorrow..." and "...because he's my son..." rang in my ears for decades until I finally met Lynn back in 1991 while shooting Olympic Bunker Trap outside of Cincinnati, Ohio. Once I connected the dots I realized I was shooting with one of my childhood heroes!
We lost our great friend and mentor Lynn several weeks ago and I haven't been the same since... I can't make sense of it, I really can't. It seemed like the story that could never go wrong: A healthy physician undergoing a standard procedure in the best of hospitals with the best of surgeons. And then nothing. It doesn't seem right and it makes us want to scream out to the heavens and pound our chests. But Lynn is gone now and what we should do is celebrate his life and his accomplishments and that is what we must do.
I was in Cody last week at the Buffalo Bill Historical Center and went down to see the ladies in research - Connie and Jessica - as I always do. I told them of Lynn's death and they were unaware of it and astonished. Firearms Curator Warren Newman came into the room where we were discussing Lynn and he said, "There never was a son who honored his father more." That is so true!
After we talked about Lynn and traded some stories about him, I took my leave and walked out through the basement of the museum and there were the famous lines of the "Showman Shooter" film that has run now for years as a continuous loop resonating through the room. I walked over to the Herb Parsons exhibit with all of his guns, the shooting vests, the famous table cloth, the photos of he and the boys and paused for a moment and then through tears I said, "We will keep it going Lynn. You can be sure of that." After that I went upstairs and paused before the "Winchester '73" movie exhibit with Herb's Winchester Model 71 and the photos of Jimmy Stewart - all of these items Lynn had brought to Cody and had placed in a prominent position - all in the memory of his father. There could not be a better place that Cody for the memory of the Parsons family to be displayed. Never.
I sat many times with Lynn in his Bellefontaine home - he at his desk - me in the chair and asked questions about his father and he could pull from thousands of photos and the beautiful archive of letters/posters/Winchester advertising/memos/documents that he had so carefully catalogued. Some day these will be prime research material in Cody. In there is the story of a great American hero, a great American family and a great American company. It doesn't get any better than that!
Lynn was very inspiring to me. It is very motivating to have a role model like him and he was certainly that in many ways. Imagine losing your father at age 15 - he was not only a fine father, but a father figure to millions of young and old shooters alike. Good begets good and Winchester's John Olin stepped up and offered both Lynn and Jerry not only basic college educations, but agreed to finance their professional colleges as well. And certainly one of the Lynn's traits was to always take advantage of opportunity and he ran with this gift from Olin until he became a surgeon. His brother a PhD. So their father taught them well and now today they honor him.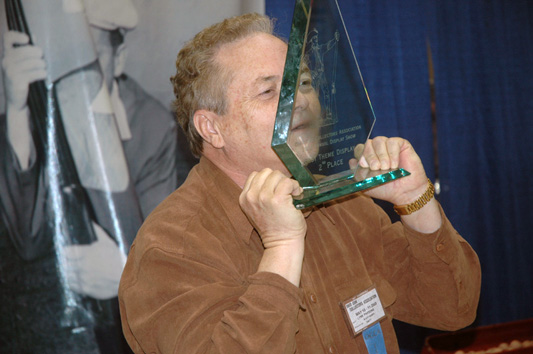 If you've ever been around Lynn much, you were laughing and carrying on in no time. He had more one-liners than anyone else I've ever seen. He had that soft southern drawl and quick machine-gun like banter just like his famous father. We spent lots of time together shooting Olympic Bunker as well as shooting on the same squad at The Grand when it was in Vandalia, Ohio. As many of you know, Lynn was on the board of the National Trapshooting Hall of Fame in which Herb was inducted posthumously.
Back when I first met Lynn over 20 years ago, I was working for Taylor Publishing out of Dallas, Texas and one of the first things I said to Lynn after I realized he was the son of the most famous shooter in the world was: "Let's do a book on your father." At first he waved it off as way too time consuming for a busy surgeon, but late one night he called me about five years ago and said, "Let's do it and tomorrow." So began the immense journey of the "Showman Shooter" book. As Lynn and Jerry had resurrected the crumbling "Showman Shooter" film, so would they present the life of Herb Parsons to an eager public via a book. The book was a crowning achievement and a great look at not only the world's best shooter/rep, but an inside glimpse of the Winchester company as well. Lynn was mighty proud of that book! Coupled with the film, it told the story of his father and mother and he and his brother wonderfully. It will stand the test of time.
I just can't believe Lynn is gone... Only a couple of months ago he made a special trip to my gun store here in Burton, Ohio and spent the day with me and my staff. He was, as usual, extremely funny and he was most anxious to see the section on his father in my firearms/Western museum up in my upstairs. At lunch we ate with his father's famous Winchester felt table cloth and photos of the "Winchester '73" and stills from the film above our heads. Later Lynn signed some books for my customers and we played "Showman Shooter" for some of the crowd. Of course we goofed on Lynn about his rolled up pants, slick hair and Buster Brown shoes!
Lynn Parsons meant the world to me and just to hear his voice on the phone was to start the memory machine of his father's shooting accomplishments, those wonderful days shooting at the Grand, collecting guns, popping clays at a bunker, great fall days of bird hunting and all of the southern mannerisms he had. I really miss Lynn... But he's forever burned into our gray matter as a 10-year old boy crossing that brief expanse to this famous father and taking up the pump gun and shooting one, then two, then three, then four, then five rocks before they hit the ground. All of this he did in silence, all this he did with strict obedience. And then when he turned and faced the camera with his father - maybe it was that moment when his father was talking about HIM that motivated the doting son all of these nearly 70 years to preserve his father's memory. That would do it, wouldn't it?
There's a part at the end of "Showman Shooter" that Lynn especially liked and that was the part where he and his Dad are hunting pheasant at a New York preserve. The setter dog they have working in front of them goes on point and Herb steps forward and flushes a nice cock pheasant. Lynn cranks it right off the grass and the bird explodes in a puff of feathers - not an eating bird there... If you watch closely in the film, you can see Herb's mouth moving, but no sound because of the narrator and music over the images. I once said to Lynn: "Hey, what did you father say there to you after you smoked that bird?" And Lynn said he said, "Lord Lynn, why didn't you let it get out more? You blew it all to hell!" We laughed and laughed about that one!
I had so many good experiences with Lynn - once we set up an exhibition on his father at the Ohio Gun Collector Association's "Display Show" in Wilmington, Ohio and won First Place in their competition and got a $1300 prize. The book had just come out and Lynn was really excited and must have sold and signed dozens of copies. MANY older gun collectors came up and told Lynn they had seen not only his father shoot, but Lynn as well. Boy, Lynn loved those two days! Hundreds of people stopped by our display and visited with Lynn.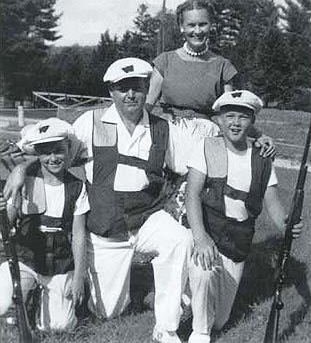 At one point down at OGCA, Lynn turned to me and said, "I can't believe this response and interest in my father! He's been gone over 50 years and they're still using his phrases and watching the film!" It was astonishing and because Lynn and his brother had the foresight and honor to restore the original 1954 film and put the book together, it will now live forever!
We're all going to miss our great friend Dr. Herbert Lynn Parsons, but he leaves behind a rich legacy that will live on! He left smiling and grateful children and grandchildren (one must hope beyond reason that they too become shooters! They sure have the genes!), a wonderful book of memories and insight, a once forgotten film he pulled rotting in the Winchester archives and made into a classic, a great medical reputation and practice and his friends who won't let his memory die!
Every time we shoot a game bird over a dog we will think of Lynn, every time we break a rock we'll think of Lynn, every time someone recites a mantra from his father we'll think of Lynn, every time we enter the Buffalo Bill Museum we'll think of Lynn and maybe one day we will read of one of his grandsons breaking shooting records as well! For me, he's always going to be that little 10-year old boy with the funny shoes and rolled up pants shooting like his famous father...
- Scott T. Weber
Burton, Ohio
June 1, 2012
---
Hello to all !!!
I awoke from my dream this morning, only to find it was the real deal.
Yesterday we went down to Mt. Morris, NY for the Mt. Morris Sportsman's Club annual Memorial Day trap shoot.
This was a two day event but we were only able to make the big event on Sunday, which was the 200 Handicap target event. For those who aren't familiar with this program, there are 8 rounds of trap, shot over 4 different fields of 25 targets each. Handicap is where the shooter stands back from the 16 yard line (back to the 27 yard line) depending upon the shooter's ability.
Anyway, as many of you may know, the Diabetes thing had hit me very hard over the past couple of years and after the insistence of our wonderful friend, the late Dr. Lynn Parsons, I finally got myself to a local Doctor down in South Carolina, and began a regimen of daily insulin shots to see if I could regulate the situation.
I had all but given up on trap shooting, as the Diabetes had taken it's toll on my ability to see targets clearly, or move the gun to the target with any accuracy. (I have been a mess, but didn't want to admit it)
Since I have been experimenting with the latest round of not only 24 hour insulin, but now taking meal time insulin, things are beginning to right themselves with this disease, and I am beginning to have a clear head again after being in a fog but not realizing it for so long.
Yesterday we went to visit our old shooting friends in Mt. Morris, NY, and I had tossed the old gun into the truck, along with shells on the off chance I decided to shoot the event. Well, after thinking about it I signed up, last squad, last man. Danged if I didn't go out on the first 100 and shoot a 23-25-23-24 for a 95 total. Respectable, but surely not going to be a score to hold up with all the good shooters among the 65 entrees. There were a couple of 98's and 97's already in. (Anyone who knows the struggles I have had lately shooting, can appreciate how happy I was with a 95.)
Second hundred found me going out as the sun cast shadows on the first field. Shot poorly on that field for a 21...I told Judy that was going to be a tough 96 to get, laughing all the way. She told me "You can do it, just concentrate". Well concentrate I did, and ran 25 straights on the next three fields for a total score of 96 on the back 100 targets.
I never gave my total for the day of a 191 a prayer to win anything, but I had proven to myself that I actually could shoot the old gun again with some accuracy.
A little while later my wife Judy comes up to me and says they wanted me for a shoot off. She had no idea for what,( someone said "Yardage Title" ) but to get some more shells and get back to the club house. I went and got a couple of boxes, and reported in for the shoot off trying to find out what for....It was not until I shot another perfect 25 in shoot off that I found out I was shooting for the Championship trophy. ( It has been over 3 years since I was able to run 100 targets straight, never in Handicap. Although the last 25 were in shoot off, I had run the last 100)
Well I was shocked, elated, speechless, you name it. The old man who drove over 900 miles to shoot with some old friends in NY, actually won.
The top prize for the day was a very nice leather shooting bag donated by the Mt. Morris Club's President Dave Cichellie. THANK YOU DAVE !!!...(Dave, can you tell I am happy ?)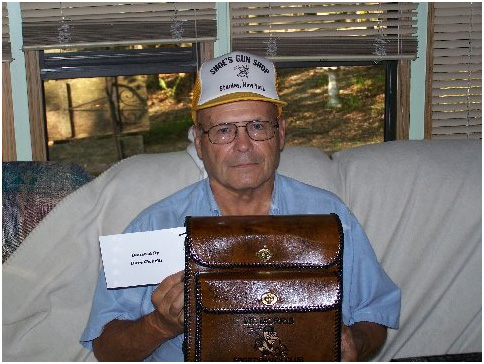 I will cherish this beautiful bag forever because after over 50 years of shooting, I had never won one of these cherished bags. Tried very hard back in my day of real competition, but never succeeded. Seemed I was always the Bridesmaid but never the Bride.
I need to tell everyone that this win, and trophy is dedicated to the fellow who guided me through my fear of needles, and convinced me that the only way I was going to get my Diabetes problem under control was by going to the injections of insulin.
Out in Ohio last October during a visit with him, Lynn "Doc" Parsons showed me how simple it was. Then he affectionately began calling me the "Needle Man". The guy had a real sense of humor, and we miss him dearly.... This bag will be going into our Miniature trapshooting museum in our den down south that our friend called the "Mini-Mu".
Our friend, Dr. H. Lynn Parsons passed away this month. If not for this man, who knows if I would have ever gone "On the Needle" .
This friend, and veteran, rode my shoulder yesterday...Thanks "Doc" !!!
Memorial Day Shoot. What a tribute to my Veteran friend ...
That's my story. A very happy camper in NY today.
Have a wonderful Memorial Day !
Dave